Oermeitsje nei Eksterne fêste skiif of USB
Jo Windows drive romte is net genôch, mar dochs net wolle te wiskjen ien fan jo favorite videos of songs? Gjin soargen! Mei iSkysoft iMedia omrekkener Deluxe foar Windows, koest maklik oerdrage jo grutte-sized media triemmen oan jo eksterne hurde skiif of USB bewarje mear romte foar jo Windows PC!
1.

Connect jo hurde skiif mei jo Mac.

Iepenje iSkysoft iMedia omrekkener Deluxe foar Windows en oergean op de oerdracht knop op de top, dan ferbinen jo fêste skiif of camcorder mei jo Mac. Kontrolearje oft it wurdt erkend troch jo kompjûter.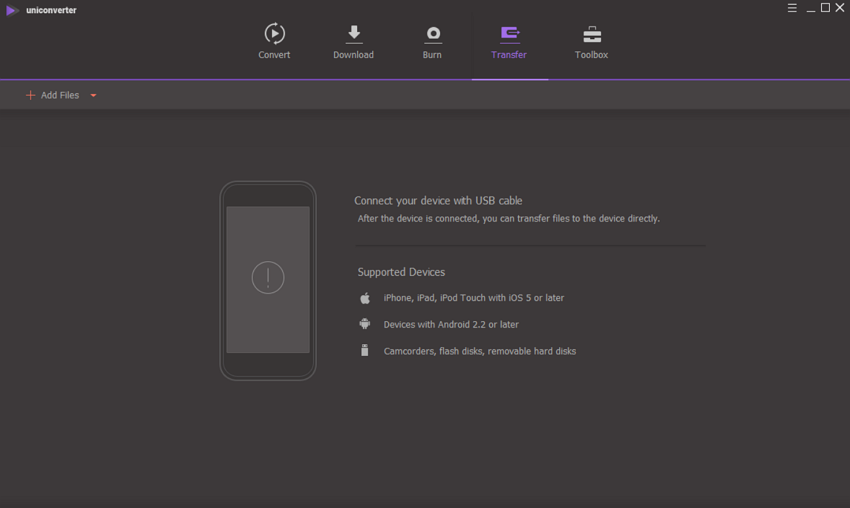 2.

selektearje video of audiobestannen wurde oerdroegen.

Ymportearje videos of audio triemmen nei it converter mei help fan "Tafoegje Triemen" knop yn it Transfer ljepper. As alternatyf kinne tafoegje media triemmen te keap út konvertearre of ynladen triemmen yn Bekearling and Download ljepper apart troch te klikken op "Taheakje oan Transfer" knop oan de rjochterkant fan eltse triem clip.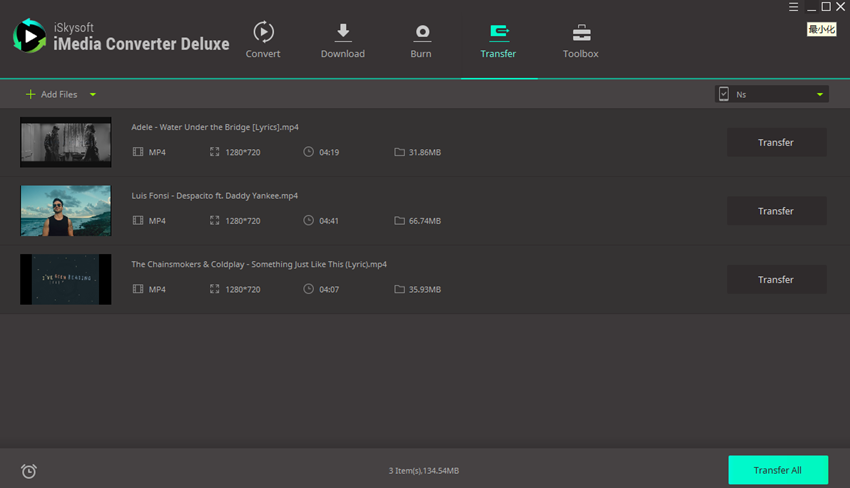 3.

Transfer files nei jo Hard Drive.

As jo ​​hawwe selektearre jo doelgroep triemmen wurde oerdroegen, klik dan op de "Transfer All" knop of "Ynlaad" knop yn it skerm bar fan elk video.