Play Video
Play videos ús mear as wolkom jo iSkysoft iMedia omrekkener Deluxe software. Dit is ynklusyf videos al opslein op dyn Windows PC, of ​​dy't ynladen út video websiden lykas YouTube, Facebook, Vimeo, VEVO, Hulu of Netflix, ensfh Wat is it meast wichtich, dizze iSkysoft video it omsette ynstrumint stipet te spyljen videos yn 150+ formaten, ynklusyf MP4, MOV, M4V, AVI, FLV, VOB, MKV, WMV, 3GP, ensafuorthinne.
1.

Load dyn videos

Starte software programma, dan komt te lizzen oan de Convert ljepper standert. Klik op 'e "Taheakje Triemen" knop op de boppe-linker hoeke, of jo kinne ymportearje media triemmen út lokale fêste skiif, mobile apparaten of camcorder troch te klikken op de dellûk ikoan.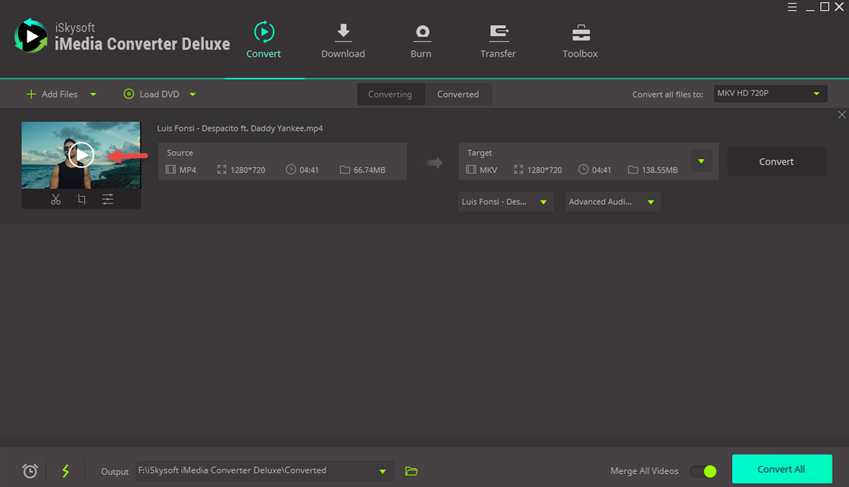 2.

Litte wy him fideo as jo wolle

Nei't ymportearjen jo fideo oan de Windows video converter, dan sjogge in musical ikoan ferskynde op it miniatuer fan de ymportearre videos. Tap it en in pop-up finster sil sjen litte omheech, fan wêr kinst watch jo videos frij. Jo koenen ek krije skerm shots troch te klikken op de lytse foto ikoan op de rjochter hoeke, te bewarjen JPG of BMP yndieling foto yn jo bestimming map.