YouTube to MP3
Wolle jo direkt download MP3 bygelyks út YouTube? iSkysoft iMedia omrekkener Deluxe foar Mac helpt berikke dat der mei in pear mûsklikken. Hjir binne de detaillearre stappen:
1.

Gean nei it "Download" ljepblêd en kopiearje URL

Nei't wurke de software op dyn Mac, silst sjen 5 ljepblêden: Convert, Download, Burn, Transfer en Toolbox. Klik dan op de "Download" knop om te gean nei it "Download" ljepper. Om download MP3, earst gean nei offisjele site lykas YouTube en kopiearje URL fan de fideo of audio jo wolle ynlade. Dêrnei, klik dan op de "Download MP3" knop út it dellûk knop neist "Plakke URL". Dizze software sil begjinne te downloaden en omsette YouTube videos to MP3.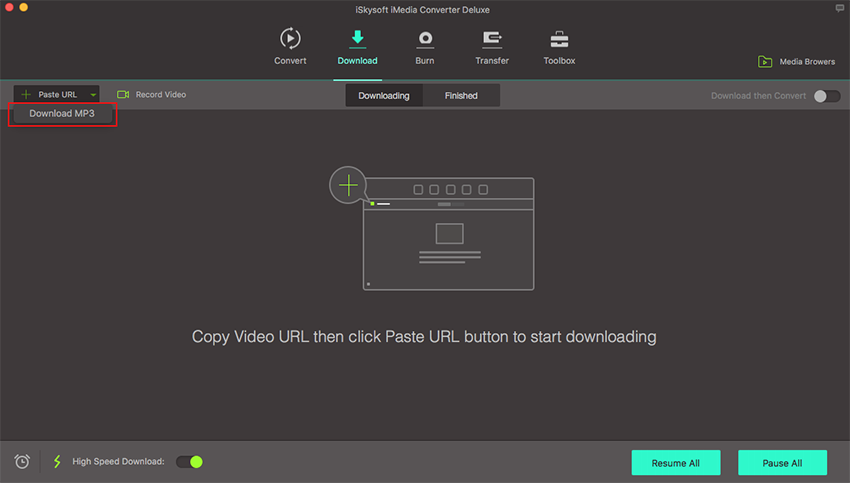 2.

Begjin te ynladen nei MP3

Just wachtsje op in momint, dan sille krije jo winske MP3 triem ynladen op Mac as jo wolle.

Tink derom: Om feroarjen bestimming map foar ynladen MP3 triemmen, kinne jo gean nei "foarkar"> "Lokaasje".