burn DVD
iSkysoft iMedia omrekkener Deluxe foar Mac docht in grut wurk op baarnende videos oan DVD likegoed as it konvertearjen video. No kinne jo krije detaillearre gids oer hoe't burn DVD mei dit alles-yn-ien fideo en dvd oplossing.
1.

Run it programma, laden dyn video

Oan de iene kant, dan moatte download, ynstallearjen en starte iSkysoft iMedia omrekkener Deluxe programma op jo Mac. Dan gean nei it "Burn" ljepper en ymportearjen fan jo fideo.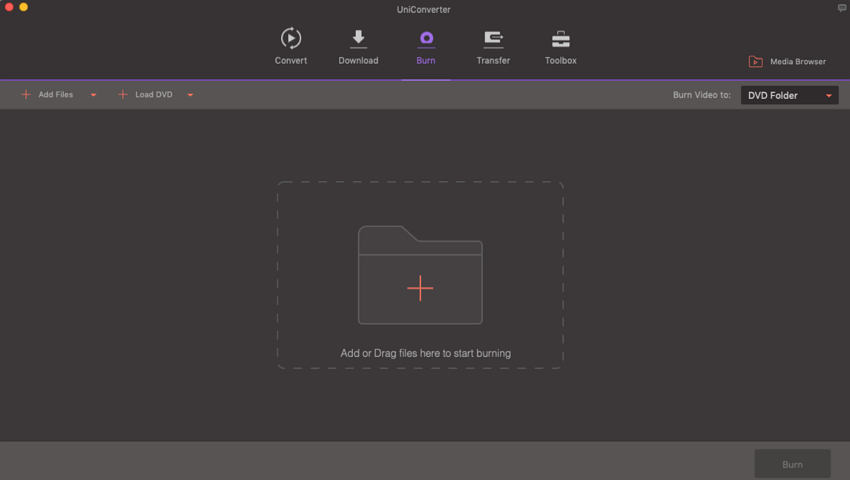 2.

Burn DVD

Yn de "Burn" ljepper, do bist by steat om te brâne in DVD disc of út video, audio, of de ynhâld op selsmakke dvd, DVD films, of DVD triemmen (VIDEO_TS, ISO, dvdmedia). It soarget foar in maklike manier om DVD films op TV of tragbaren DVD spilers.

No nim dan jouwe in namme en kies in menu oan jo DVD skiif. Tagelyk, kinne jo kieze de kwaliteit en it aspekt ratio fan de DVD triem. Ofsjoen fan dy, do koe ek kieze út de 26 ynstelde DVD sjabloanen ynklusyf ferskillende tema 's lykas romantyske, houlik, maitiid, oseaan, wittenskip, ensfh Dêrnei ienfâldich drukke op de "Burn" knop en it programma sil begjinne baarnend jo DVD disc . Wannear klear, de DVD wurdt ferdreaun en do kinst spylje DVD op eltse thús DVD spiler.

Notysje: Jo kinne ek meitsje DVD map, .dvdmedia, SuperDrive of ISO triem troch kieze opsjes fan de "Burn nei" dellûk list.